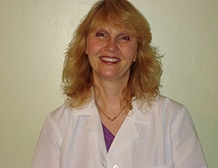 Christine Atkins
Audiologist
Christine Atkins attended graduate school at University of Massachusetts, Amherst and specialized in Audiology. She completed her clinical fellowship at Columbia Presbyterian Medical Center. Christine received an educational Audiology award from National Institutes of health.
Christine specializes in comprehensive vestibular assessments which include videonystagmography; vestibular evoked myogenic potentials, canalith repositional maneuvers for the treatment of Benign Paroxysmal Positional Vertigo.
Christine is a member of the American Academy of Audiology and is licenses as both an Audiologist and Hearing Aid Dispenser.  Christine joined Speech & Hearing Associates in 2008.