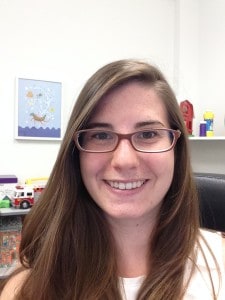 Ann Martino
Speech-Language Pathologist
Ann Martino earned her Master of Arts degree in Speech-Language Pathology at Temple University and her Bachelor of Science degree in Cognitive Science and Linguistics at University of Delaware.
Ann has treated patients in a variety of settings including home based early intervention, schools, hospitals, skilled nursing facilities, and clinics. Ann has experience working with children with articulation, language, voice, fluency, feeding/swallowing, and motor planning disorders. Additionally, Ann has provided skilled therapy to adults with aphasia, dysphagia, fluency, cognitive-communication disorders, apraxia, and dysarthria. She also has experience with AAC.
Ann holds the Certificate of Clinical Competence from the American Speech-Language and Hearing Association and is licensed to practice speech-language pathology in New Jersey. Ann is a Speech Easy provider. She has been named a New Jersey Kids' Favorite Doc. She also holds her Speech-Language Specialist certification from the New Jersey Department of Education.