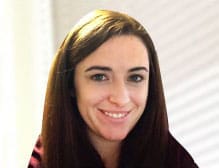 Danielle Egan
Doctor of Audiology and Hearing Aid Dispenser
Danielle Egan is a licensed Audiologist and Hearing Aid Dispenser. She received her Doctorate of Audiology (AuD.) at Montclair State University and her Bachelor of Science (B.S.) degree in Communication Sciences and Disorders from James Madison University. She has experience working at private practices, ENT clinics and hospitals. Some places where she did her clinical training in audiology includes AuDSLP, Todt Hill Audiology, Speech & Hearing Associates (at several private offices), JFK Medical Center, and Montclair State University Center for Audiology and Speech Language Pathology.
Danielle has experience working with children and adults. She has a specialty in diagnostic testing, central auditory processing, and hearing aids. Danielle also specializes in working with Cochlear Implants, including; evaluating patients for candidacy, programming, and follow up adjustments. She frequently attends seminars and conferences so she can keep her patients up-to-date on the latest hearing aid technology and assistive listening devices. She believes that a little bit goes a long way and loves to help her patients anyway that she can.
Danielle is member of the American Academy of Audiology and is licensed in New Jersey as both an Audiologist and Hearing Aid Dispenser. Danielle joined Speech & Hearing Associates in 2013.