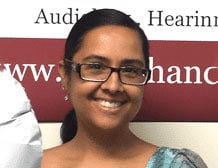 Doreen Cruz-Delgado
Bilingual Speech-Language Pathologist
Doreen Cruz-Delgado is a bilingual (Spanish/English) Speech-Language Pathologist. Doreen has been a member of Speech & Hearing Associates since April 2006.
Doreen received her Bachelor of Arts in Speech-Language Pathology and Audiology from Brooklyn College and her Master of Science in Communication Disorders from Hunter College. During her graduate school experience, she was selected to participate in ASHA's Minority Student Leadership Program, which provided a forum for minority students to participate in leadership focused educational programs.
Doreen worked for almost ten years in a private special education preschool in New York, where she provided therapy and diagnostic assessments to children ages 2-5 in both English and Spanish. She additionally facilitated parent workshops in various topics of speech and language development and disorders. She was also a member of a Bilingual Task Force, which developed linguistically and culturally appropriate methodologies for children, parents and staff. Doreen also has extensive experience in providing speech, language and oral-motor/feeding therapy to Early Intervention students. During her work experience she was named Therapist of the Year in addition to being the recipient of the John F. Kennedy Fellowship Award in recognition of admirable skills as a healthcare provider.
Doreen has spent the last 10 years working in an urban school district, where she is a member of the Child Study Team. She provides therapy and conducts evaluations to K-7th grade students with a variety of speech and language disorders.
Doreen has Level 1 Training in PROMPT and in PECS. She is also a Level 1 Certified Therapist in Hippotherapy, which utilizes horses as a treatment strategy to support and facilitate speech and language skills.
Doreen has also conducted workshops and webinars specializing in Bilingual Speech-Language Pathology.
Doreen has repeatedly been named as New Jersey Kids' Favorite Doc.
Doreen holds the Certificate of Clinical Competence from the American Speech Language and Hearing Association. Doreen holds licensure in the State of New York and Permanent Certification as the Teacher of the Speech and Hearing Handicapped along with the Bilingual Extension to the Speech and Hearing Handicapped Certificate. She is currently licensed in New Jersey and holds Certification as a Speech-Language Specialist from the New Jersey Department of Education. Doreen is additionally licensed and school certified in Pennsylvania.