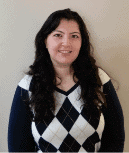 Ruzanna Amram-Paez
Bilingual Speech-Language Pathologist

Ruzanna Amram-Paez is a trilingual (Russian/English/Spanish) Speech-Language Pathologist. Ruzanna can conduct evaluations and therapy in Spanish with children under the age of four years. She received her Master of Science degree in Speech-Language Pathology from Seton Hall University and her Bachelor of Arts in Communication Disorders and Psychology from Queens College. Ruzanna received training with the pediatric population in a school, out-patient hospital, and a private practice setting.
Ruzanna comes from a multicultural background and is fluent in Russian. She has participated in research projects that study the home maintenance strategies utilized by Russian speaking parents. She is also a participating member of NJSHA Multicultural Issues Committee.
She has experience in treating and evaluating the pediatric population with various disorders such as articulation, receptive/expressive language, social, cognitive, auditory processing, fluency, apraxia, ADHD, and high-functioning ASD. Ruzanna is level one PROMPT trained and Hanen certified.
Ruzanna also received training with the adult and geriatric populations in a rehab, acute, in-patient and out-patient hospital, and a private practice setting. She also has experience working with the adult and geriatric populations who have cognitive, articulation, language, and feeding and swallowing difficulties.
Ruzanna holds the Certificate of Clinical Competence from the American Speech Language and Hearing Association and a Speech-Language Specialist Certificate from the New Jersey Department of Education. Ruzanna is a SpeechEasy provider.