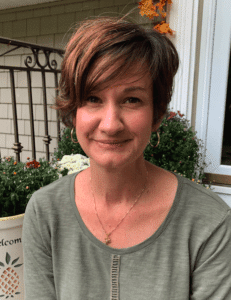 Michele McGlynn
Audiologist

Michele McGlynn received her Master's degree in Audiology from Ithaca College and her Bachelor's degree in Speech Pathology and Audiology with a Certificate for Teacher for  the Speech and Hearing Handicapped  from SUNY at Cortland College. Michele has worked over 20 years for Speech & Hearing Associates  and her work setting has included hospitals, ENT offices, and nursing homes. She is licensed as an audiologist and as a hearing aid dispenser. She  takes a particular interest in auditory processing disorders (APD) and the aging hearing impaired patient. She dispenses various levels of hearing aid technology, and co-runs Speech & Hearing Associates' auditory training group called A Time to Listen and Connect for those with hearing difficulties. Working with our speech-language pathologists on staff, she strives to  develop and improve auditory training goals for the aging hearing impaired individual and the adult or child with APD.  
Michele ensures any limitations that arise in a patient's daily life from their hearing loss is addressed so that her patients can live their life fully. She strives to work collaboratively with other professionals, including speech-language pathologists, physicians, specialists, case managers, teachers, and families to maximize each patient's hearing and communicative needs.
Michele is a member of the American Speech-Language and Hearing Association and the New Jersey Speech and Hearing Association. She is available to provide educational workshops on hearing loss and auditory processing disorders to senior groups, child study teams, special service organizations, and families. Ms. McGlynn joined Speech & Hearing Associates in 1996. In her spare time, Ms. McGlynn enjoys the outdoors with her 3 boys, volunteering her time at a food pantry, and assisting the deaf-blind.