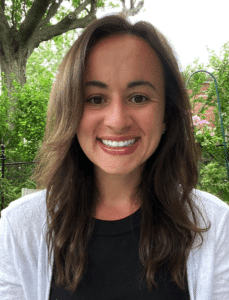 Hannah Fransowie
Speech-Language Pathologist
Hannah Fransowie has earned her Master of Arts in Speech-Language Pathology from Kean University and her Bachelor of Arts in Psychology from Drew University.
Hannah has gained clinical experience working with both pediatric and adult populations across various settings including university university-based clinics, public school, and private practice settings. She has evaluated and treated a variety of disorders including voice, articulation, expressive/receptive language, fluency, pragmatics, aphasia, and apraxia. Hannah also has experience working with individuals with Autism Spectrum Disorder utilizing high and low-tech Augmentative and Alternative Communication (AAC) devices and behavioral interventions such as Applied Behavioral Analysis (ABA) and Treatment and Education of Autistic and Communication Handicapped Children (TEACCH). She has collaborated with occupational, physical therapists and classroom teachers in order to help maximize student learning and patient progress.
Currently, Hannah is completing her Clinical Fellowship with Speech & Hearing Associates.