The NJ Speech Language Hearing Association (NJSHA) just announced the recipient of the 2016 Distinguished Clinical Achievement Award.  We are most happy to announce that this year's awardee is Judy Maskevich.
The award criteria are:  This award recognizes a speech-language pathologist or audiologist who is a member in good standing of NJSHA with five or more years of professional experience whose primary responsibility is in direct service to individuals with speech, language and/or hearing disorders.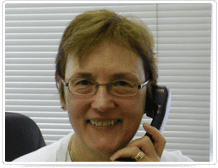 This individual demonstrated distinguished service in some or all of the following areas:
(a) provides exemplary service to patients and families,
(b) is recognized as an expert by his or her peers,
(c) shares expertise through teaching, mentoring, supervising, and/or professional presentations,
(d) develops innovative programs,
(e) actively pursues continuing education, and is actively involved in the advancement of the profession.
Judy has been with Speech and Hearing Associates almost since its founding, 47 years ago! She has worked in a variety of settings including hospitals, skilled nursing facilities, schools, and our private offices. In addition to carrying her own caseload, for many years Judy was Speech and Hearing Associates' official Clinical Fellow supervisor. In this capacity she has supervised and mentored many SLPs in their first year. This well-deserved award recognizes her dedication and the inspiration she has been to so many SLPs.