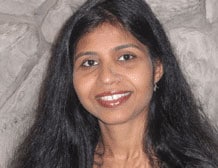 Somi Gupta
Doctor of Audiology

Dr. Somi Gupta has a Doctor of Audiology degree from A.T. Still University and a Master of Science Degree in Speech and Hearing from Osmania University, India.
Somi's clinical interests are in vestibular testing and rehabilitation, CAPD testing and hearing instruments. Over the last 14 years, she has accrued work experiences in Audiology as a clinical instructor, diagnostician, and lecturer. Likewise, she has also held licenses to practice Audiology and Hearing Aid dispensing in the US, Australia, and India.
Somi is a member of the American Speech and Hearing Association and is licensed as both an Audiologist and Hearing Aid Dispenser.  Somi joined Speech & Hearing Associates in 2004.