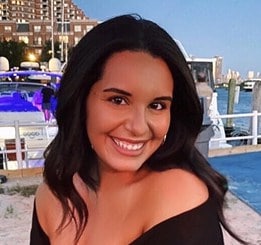 Marissa Iskandar
Speech-Language Pathologist
Marissa Iskandar received her Master of Arts degree in Speech-Language Pathology from Kean University and her Bachelor of Science degree from Stockton University.
Marissa has gained clinical experience working with both pediatric and adult populations across various settings including university clinics, specialized school, public school, and private practices. She has evaluated and treated a variety of disorders and diagnoses including articulation, phonology, expressive/receptive language, fluency, pragmatics, dysphagia, aphasia, apraxia, and cognitive-communication deficits. Marissa has experience working with specialized populations utilizing a variety of Augmentative and Alternative Communication (AAC) devices. She has also collaborated with occupational and physical therapists to conduct social skills groups for those with social, behavioral, and sensory difficulties.
Marissa believes that family involvement and multidisciplinary/interprofessional collaboration is essential to carry out the best quality of care and to promote communication skills that are both functional and meaningful.
Marissa holds her Speech-Language Specialist certification from the New Jersey Department of Education, the Certificate of Clinical Competence from the American Speech Language and Hearing Association, and is licensed to practice speech-language pathology in New Jersey.