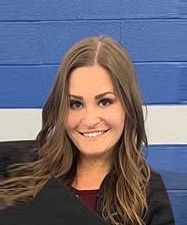 Kelly Hassler
Speech-Language Pathologist
Kelly Hassler earned her Master of Science Degree in Speech-Language Pathology from Seton Hall University and her Bachelor of Science Degree in Communication Disorders from Stockton University.
Kelly has experience evaluating and treating pediatric and adult/geriatric patients with a variety of disorders and diagnoses including articulation/phonological disorders, expressive/receptive language disorders, apraxia of speech, aphasia, cognitive communication deficits, dementia, progressive neurological diseases, stroke, traumatic brain injuries, dysarthria, and dysphagia. She has treated patients in the public-school system, in a private practice, and a skilled nursing facility that consisted of long-term care and subacute rehabilitation. Kelly has also worked with children and adults utilizing Augmentative and Alternative Communication to improve communication.
Kelly believes in creating individualized treatment plans and materials to meet the needs of every patient. She works collaboratively with patients and families to provide the most optimal care.
Kelly holds the Certificate of Clinical Competence from the American Speech Language and Hearing Association and is licensed to practice speech-language pathology in New Jersey.