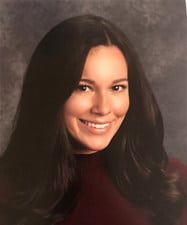 Hayley Kraemer
Speech-Language Pathologist
Hayley Kraemer earned her Master of Science degree in Speech-Language Pathology and her Bachelor of Science degree in Elementary and Special Education and Social and Behavioral Sciences with a minor in Social Work from Seton Hall University.
Hayley has experience working with children in outpatient clinics, early intervention, as well as within the school system. Hayley's pediatric experience in these settings has prepared her to treat phonological disorders, receptive and expressive language disorders/delays, fluency, apraxia, cleft lip/palate abnormalities and pragmatic deficits. Hayley has experience working with patients individually and in group settings.
Hayley is licensed to practice speech-language pathology in the state of New Jersey. She holds a Speech Language Specialist certification from The New Jersey Department of Education, a New Jersey certification as a Teacher of Students with Disabilities and Elementary School Teacher in Grades K-5. She also holds a Certificate of Clinical Competence from The American Speech Language and Hearing Association (ASHA).