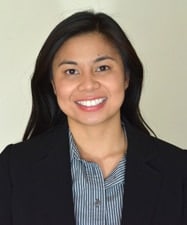 Andrea Badiola
Speech-Language Pathologist
Andrea Badiola earned her Master of Arts in Communication Sciences and Disorders from Montclair State University.
Throughout her clinical experience, Andrea has performed diagnostic assessments and provided therapy, counseling, and education to pediatric and adult/geriatric populations presenting with a variety of communication and swallowing disorders including dysphagia, aphasia, dysarthria, apraxia, cognitive-communicative deficits, articulation, receptive/expressive language, and fluency. She received training in an acute in-patient hospital, a private school for children with special needs, and university clinic. Andrea has volunteered at Adler Aphasia Center utilizing the Supported Communication and Life Participation Approach to Aphasia (LPAA).
Andrea is bilingual in Tagalog and English. She is currently completing her Clinical Fellowship with Speech & Hearing Associates and in early intervention.